Salvador Castañon Hermoso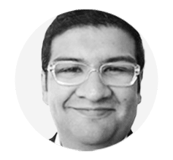 Salvador C. Hermoso is a professional marketer from Mexico, who is always looking out for the latest marketing technologies. He is always eager to help companies find a creative marketing solution as a team.
Salvador also has a great set of communication skills in several languages which allows him to help solve problems on a wide variety of markets and countries always with the proper concept on how to deliver every client´s message to its right audience.
Specialities: social media management, market research, branding and strategic planning.
Contact him via LinkedIn or by email at salvador@prophetic-technology.com